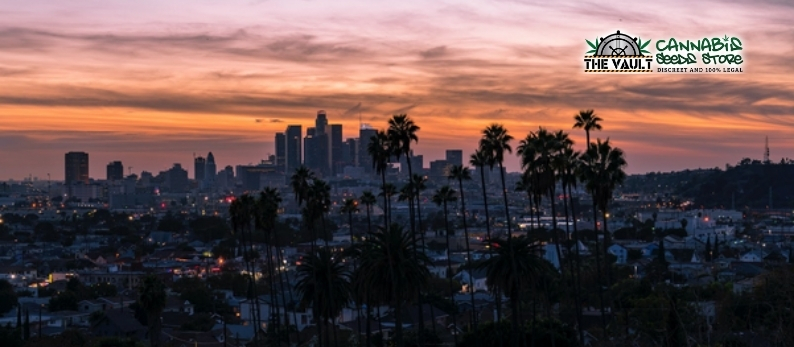 One thing that we all know is that one of the best places to find weed in the world is California. This is where some of the worlds best strains are bred and where some of the most fascinating experiments are still going on. It is almost impossible to choose the best strains to come out of California, but below are a few contenders. If these strains appeal look into all of the wonderful California breeders and try the many varied delights they have to offer.
This tasty little minx is a combination of Sunset Sherbert and Thin Mint Girl Scout Cookies. Sure she is well known for her amazing flavours and scents, but she has another fun side to her. Her THC levels sit at around 27%, so anyone who is hoping to indulge in this delicious treat had better be ready. She is an Indica/Sativa cross so her effects are mixed, a combination of couch-lock and intense creativity with a hint of cerebral power and full-body relaxation. She isn't suited to novice smokers or for anyone who has a busy day ahead of them. Perfect for a good mood and a chilled out body, lovely relaxed muscles. This strain has a flowering time of 8 – 9 weeks and will grow well indoors or outdoors.
This strain just screams California with its deliciously fruity fragrances and uplifting effect. Tropicana Banana was created by combining Tropicana and Banana Kush. The resulting strain is impressive for a number of reasons, including her THC levels. Usually, the THC in this strain will get up to 22 – 25%, not a strain for the faint of heart. She is Sativa dominant and so her effect is uplifting, energetic and stimulating. Tropicana Banana is the perfect strain for a day out on the beach, an afternoon of crafting (crafternoon) or just hanging out with friends. This also makes her a perfect strain for anyone who is struggling with fatigue or depression. The plant is just as vigorous as the effect, often producing yields of up to 700g/m2. She has a flowering time of 9 – 10 weeks and will grow well indoors or outdoors.
This fantastic strain was created by combining Do Si Dos and Gelato #33. The result is an Indica heavy relaxation producing wonder strain with some serious power. Do Si Dos 33 boasts THC levels of 22 – 18% and is brain-meltingly comfortable. The stone is heavy, soporific and relaxed but with an uplifting hit that makes it perfect for just taking a day off. This makes her a great strain for those suffering from stress, anxiety or insomnia. However, due to her immense power, she is not recommended for beginner smokers. Her flavours and scents are an exciting combination of lime, mint, herbs and spice. She also is capable of seriously impressive yields that can reach 700g/m2 indoors. Do Si Dos 33 is a great strain for old school smokers who want that 70s listening to Led Zepplin in a basement high. This strain has a flowering time of 8 – 9 weeks and can be grown indoors or outdoor.
Strawberry Lemonade is a Sativa heavy strain that is absolutely ideal for the creatives out there, especially those that are experiencing a dry spell. This combination of Strawberry and Lemon OG has an extremely creative high. It is creative yet calming and energetic but focused all the while being super uplifting. This is the strain for getting projects done, especially in lockdown when inspiration may be sparse. The THC level for this strain is usually over 20%, so it is decently powerful as well. For non-creatives this is a great strain for socialising, daytime adventures and generally just enjoying one's self. Medicinally she is used for reducing pain, helping with depression, and relieving stress. Her flavour is a deliciously bright citrus combined with the sweet fruitiness of the Strawberry parent. She has a flowering time of 8 – 9 weeks and can be grown indoors or outdoors.
This strain is ideal for a classic smoking experience, and as we may be able to tell from the name isn't for beginners. Strong Stuff is an old school strain that was created by combining Strong, Stuff and Dude. This strain has a THC level of 20% and up, with a euphoric, uplifting and relaxed feel that may melt smokers into their couches. She is a perfect mix of Indica and Sativa, ideal for those who need help relaxing. Medicinally she can be used to help with depression, pain, lack of appetite, nausea and stress. Because she is a balance of strain types she can be used as a day time and night time medication, as long as there's nothing pressing on the schedule. She is a very attractive plant with her purple leaves and coating of crystals. The flavour and scent are sweet and fruity, adding to the delightful experience of the strain. Strong Stuff has a flowering time of 8 weeks and can be grown indoors, outdoors or in a greenhouse.
This strain is a combination of two tasty sweet treats, Wedding Cake and Animal Cookies. Meringue is Indica dominant and has a lovely, powerful effect that is simultaneously relaxing and euphoric. This is a great one for those who just want something to help them chill out. It's important to take a moment for ourselves and just relax, and what better way to do that than with a little Meringue. Medicinally this strain can be used by those who are suffering from stress, anxiety, depression or insomnia. Meringue has a THC level of 19% and can be a little on the strong side for novice growers, like many of the Californian strains. This strain is also well known for it's immense frosting of THC filled resin. This strain has a flowering time of 8 weeks and can be grown indoors, outdoors or in a greenhouse.
Remember: It is illegal to germinate cannabis seeds in many countries including the UK.  It is our duty to inform you of this fact and to urge you to obey all of your local laws to the letter.  The Vault only ever sells or sends out seeds for souvenir, collection or novelty purposes.
Make sure you never miss another Vault promo and sign up for our newsletter at http://goo.gl/Bt2Ba2
The post Best Californian Cannabis Strains first appeared on Cannabis Seeds News.