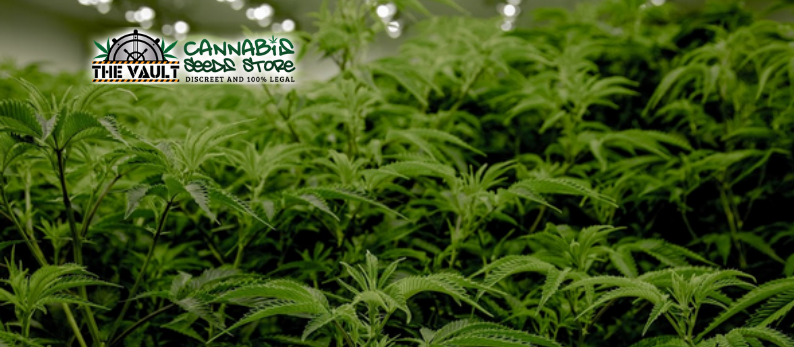 Cannabis growing changes quite significantly when we move from recreational to commercial growing. Commercial growers require a few different things from their plants such as higher yields, faster grow times, etc. Commercial growing is also about producing a product that has excellent bag appeal. This essentially means a strain that the public will be interested in buying. There are so many different strains available that fit the bill, these are just a few of the very best strains for commercial growers.
Not only is this strain well named, excellent for resale, but it is genetically impressive. This hybrid is a combination of Cheese and Querkle. Cheese is, of course, one of the better-known strains that has been around and consistently popular since the 90s. It is famous for its amazing scent, flavour and potency. Querkle is an equally tasty strain with a slightly softer vibe and a musky grape scent. Both strains are known for being vigorous growers that produce dense buds brimming with THC and not short on CBD. So we know this strain has the capacity of a commercial strain, but does it have the quality? Yes is the short answer to that. Recreationally it is exceedingly relaxing and uplifting, but medicinally it is often used as a pain-killer and as an anti-anxiety medication. This strain has a flowering time of 8 – 9 weeks and can be grown indoors or outdoors.
This strain had to be on this list, one of the most famous high yielding strains. Critical Mass is a combination of Afghani Skunk and Big Bud, so we are starting with excellent genetics. It is best known for its enormous thick buds and impressive levels of THC. Since it is powerful and extremely high yielding it has always been considered a fantastic commercial strain. It is an Indica/Sativa hybrid and the effect is a full-body powerful and relaxing stone. This makes it an excellent night time strain for those who struggle with sleep issues. Critical Mass also has a short flowering time of just 8 weeks and her yields will usually 675 – 750 g/m2. She is versatile and will grow well indoors, outdoors or in a greenhouse.
Big Bud is one of the worlds most popular strains and thus has excellent bag appeal. As one might be able to tell from the name, this is another huge yielder and one of the parents of Critical Mass. Big Bud was one of the first commercial strains so it has everything one could need. It is also well known for its medicinal properties and durable happy high. Big Bud is a great strain for anyone who's suffering from anxiety, stress, lack of appetite, or insomnia. Due to the heavy nature of the yields, the plants will need a little support towards harvest time or the stems may snap. Big Bud is a great strain for hydroponic growing systems, extremely common amongst commercial growers, but will need a warm climate to grow well outdoors. The growing time is a short 9 weeks which is excellent for commercial turn around.
This strain is likely familiar to most of our readers, its name is synonymous with strong weed. She is a legend for her extremely high yields, of course making her an excellent candidate for this list. Also well known for her impressive potency, with THC levels of around 23%. She is an Indica/Sativa cross, heavy on the Indica. This gives her a chill but happy and relaxed stone that is perfect for unwinding after a long day or just passing out in bed. This means she is perfect for treating insomnia, stress, depression and pain. Chronic is also often recognised for her fragrance which is a deliciously subtle combination of earth, spice and sweetness. To maintain this scent, growers should be careful when drying her, as the scent is a large aspect of the bag appeal. She has a flowering time of just 8 – 9 weeks and will usually produce yields of around 500 – 700 g/m2. She is also capable of growing indoors, outdoors or in a greenhouse.
Critical Mass and OG Kush came together to create Critical Kush, a commercial growers' dream. Critical Kush is an Indica strain that grows vigorously and produces fantastic yields. This is a perfect strain for Kush lovers as it maintains all of that delicious Kush scent and flavour. As may be expected the effect is powerfully relaxing and delightfully happy, which makes it the ideal evening strain. Perfect for anyone who is suffering from stress, insomnia, pain, PTSD or depression. The THC level usually hits around 22% and the CBD content can be as high as 2%. This is another strain that will need a little bit of support during the end of flowering due to the massive buds. The stems could snap if growers don't help them out a smidge. Critical Kush has a flowering time of 8 weeks and will grow well indoors or outdoors.
This last strain is pretty self-explanatory, it has big yields. It also has a short flowering time and is brimming with THC. Usually, the THC level sits at around 22% and the CBD doesn't reach higher than 1%. It has a powerful psychedelic effect which means it may not be ideal for those who are newer to smoking. It's ideal for commercial growing not just due to the potency and yield but the stature. The plants are small and don't take up a huge amount of space, meaning growers can largely increase their crop without crowding the plants. The flavour and scent are bright and citrus heavy, making it an extremely enjoyable strain. Big Yield is also extremely versatile and will grow well indoors, hydroponically, in a greenhouse or outdoors in the correct climate. The flowering time of the plant is just 9 weeks, meaning commercial growers can turn over a few crops per season.
Remember: It is illegal to germinate cannabis seeds in many countries including the UK.  It is our duty to inform you of this fact and to urge you to obey all of your local laws to the letter.  The Vault only ever sells or sends out seeds for souvenir, collection or novelty purposes.
Make sure you never miss another Vault promo and sign up for our newsletter at http://goo.gl/Bt2Ba2
The post Best Strains for Commercial Growers first appeared on Cannabis Seeds News.