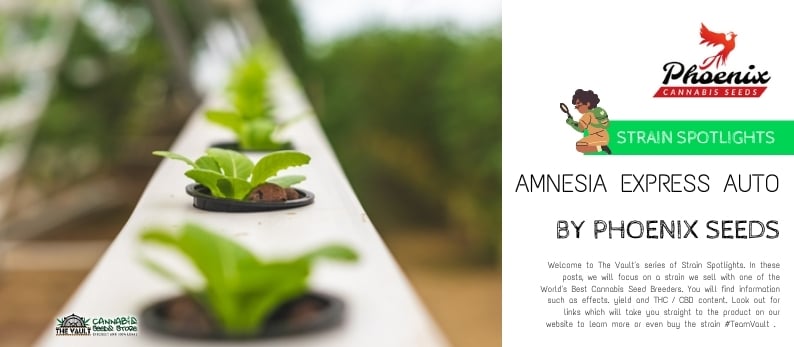 Name: Amnesia Express Auto Feminised
Breeder: Phoenix Seeds
THC Level: 17%
Effects: Euphoric, Uplifting
Yield: Medium – High
Flavour: Citrus
This is a fabulous strain for anyone who loves the sheer power of the original Amnesia and just wanted something a little faster and higher-yielding. Amnesia is a multiple-award-winning strain that is well known all over the world. It is a favourite in every Amsterdam coffee shop. She is not only powerful and recreationally enjoyable but is often used as a medicinal strain. This is because it is a powerful Sativa and is famous for its uniquely uplifting and energetic high.
Background
Amnesia Express is a combination of the Original Skunk and a Ruderalis strain, but its genetic background is a little more interesting than it seems. The original Amnesia was created by combining C99, Jack Herer, Skunk and Thai genetics. When these strains came together they created a Sativa dominant strain that was uplifting, exciting and extremely potent. It gets its name from the fact that a couple of puffs will have anyone forgetting their worries. Amnesia is a multi-award winner, it has taken 1st place in the 2004 Cannabis Cup and 1st place in the 2012 Sativa Cup. There are many different types of Amnesia because her genetics are so perfect. This version was bred to be fast flowering whilst also giving an impressive yield.
Effects
This strain is extremely uplifting, energetic and happy with a powerful potency that just wipes the brain clean. For recreational use, it is perfect for a sunny day, probably a weekend, and for socialising. It is also a good strain for creative exploits or for just enjoying a favourite film. Medicinally it is used by those who suffer from anxiety, depression, pain, stress and a variety of other physical and mental issues. Essentially it is perfect for anyone who just wants a break from symptoms or chronic pain. Even though it's uplifting it is also very relaxed, so it can be used in the evening for those who struggle to sleep due to anxiety or insomnia.
Flowering Time and Yield
This version of Amnesia is autoflowering, which means it will have a shorter flowering time and a decently sized yield. Autoflowering strains don't require a light cycle to push them from vegetative to flowering. They just do it on their own when they feel ready, which shortens the flowering time. Amnesia Express lives up to its name with an amazingly short flowering time of 7 weeks. She is also capable of growing indoors, outdoors or in a greenhouse. The plants will usually get to 100 – 120cm in height and the yield will be medium-high.
Flavour
The scent and flavour of Amnesia Express go perfectly with its uplifting high. The plants smell and taste strongly of citrus with a burst of spice and Skunk. The smell and taste are also complemented by the visual aspects of the plant. A gorgeous strain with dense buds coated in a thick layer of glittering resin.
Would you like to add some Amnesia Express Auto Feminised Seeds to your collection?
If you'd like to add some of these powerful seeds to your collection, The Vault is giving away an amazing 10% discount off Amnesia Express Auto Feminised, when you enter the code: Thanks10 in the cart!
Remember: It's illegal to germinate cannabis seeds in many countries. It is our duty to inform you of this important fact and to urge you to obey all of your local laws. The Vault only ever sells or sends out seeds for souvenir, collection or novelty purposes. All of our content is provided for educational purposes only.
Make sure you never miss another Vault promo and sign up for our newsletter at http://goo.gl/Bt2Ba2
The post Strain Spotlight – Amnesia Express Auto Feminised first appeared on Cannabis Seeds News.