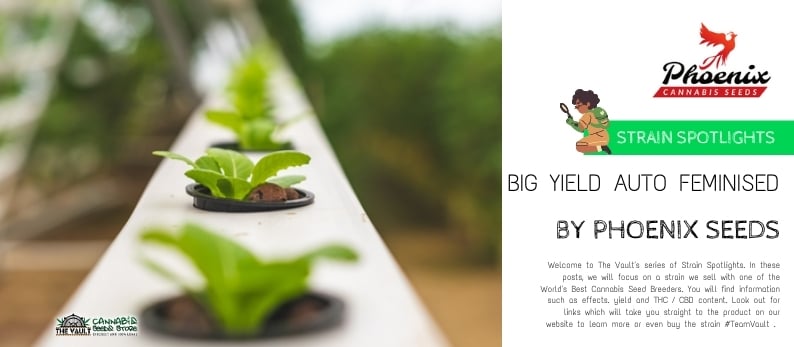 Name: Big Yield Auto Feminised
Breeder: Phoenix Seeds
THC Level: 22%
Effects: Powerful, Psychedelic
Yield: High
Flavour: Citrus
This is one of those strains that just straight up tells us what it is all about. Big Yield Auto Feminised does everything she says on the tin. She is famous for several things, her impressive yields being one of them. She is also known for her short flowering time, high THC content and powerful effect. This makes her an amazing strain for commercial growers and recreational growers alike. She is fast, strong and productive in a way that can't be matched by many other strains.
Background
Big Yield's background is a little unclear, especially when it comes to how she was created. She has been a popular strain for many years, and this version has been feminised and autoflowering to make growing her easier for a wider variety of growers. Autoflowering strains will have a shorter flowering time as well as a shorter stature which can be great for growers who are lacking in space, or who just want to fit more plants into their growing area. Feminised seeds will only create female plants, ideal for those of us who don't want to mess around with males or breed our own seeds.
Effects
The effects of this strain are extremely powerful, especially due to her high THC levels of 22% and low CBD levels of 0 – 1%. This strain is Sativa dominant meaning the effect is uplifting, powerful and psychedelic. A great strain for really getting high and enjoying recreationally. She definitely shouldn't be taken on by beginners or those with low tolerances. She is great for just chilling out, watching a film and eating snacks. Though it may be a good idea to make sure everything needed is in reach before sitting down.
Flowering Time and Yield
As this version of Big Yield is autoflowering she has a shorter than average flowering time. Usually, these plants will flower within 9 weeks meaning that growers may be able to manage more than one crop per season is the timing is right. The yields are very high, though we don't have exact measurements, it is literally the point of the strain. Growers should prepare for a decent-sized harvest. This also means it is a good idea to keep an eye on the plants and ensure they don't get overcrowded.
Flavour
The flavour and scent of this strain perfect match the uplifting and psychedelic effect. The plant has all of that normal delicious earthiness and spice but with strong overtones of lemon and general citrus. This final addition to this delightful strain improves the smoke and the overall experience.
Would you like to add some Big Yield Auto Feminised to your collection?
If you'd like to add some of these powerful seeds to your collection, The Vault is giving away an amazing 10% discount off Big Yeild Auto by Phoenix Seeds, when you enter the code: Thanks10 in the cart!
Remember: It's illegal to germinate cannabis seeds in many countries. It is our duty to inform you of this important fact and to urge you to obey all of your local laws. The Vault only ever sells or sends out seeds for souvenir, collection or novelty purposes. All of our content is provided for educational purposes only.
The post Strain Spotlight: Big Yield Auto Feminised first appeared on Cannabis Seeds News.