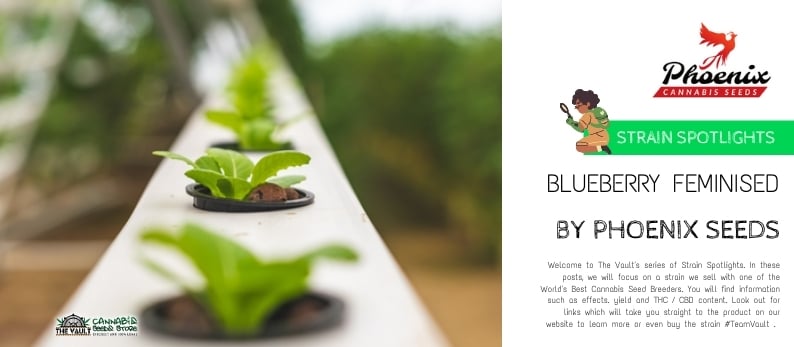 Name: Blueberry Feminised
Breeder: Phoenix Seeds
THC Level: 15 – 24%
Effects: Happy, Uplifting
Yield: High
Flavour: Sweet, Fruit, Blueberry
Blueberry is a classic strain that has been popular amongst growers and breeders for a good few decades. She is popular for her amazing scent and flavour, her delightful effect and her impressive power. She is also an excellent medicinal strain and can grow in a wide variety of environments. Essentially there is a good reason that Blueberry has been internationally famous and popular for over 50 years. She is also an award winner, which is hardly surprising and is ideal for all sorts of growers.
Background
Blueberry has been around since the 1970s and has maintained her popularity ever since. She was created by combining three fantastic strains, namely Thai, Afghani and Purple Thai. The original breeder was named DJ Short and was thought to be the 'Willy Wonka' of cannabis breeding. This is partly due to his ability to create amazing and delicious strains, partly because of how mysterious he was. Blueberry is, unsurprisingly, an award winner and took the 2000 High Times Cannabis Cup both in the Indica category and overall in the competition.
Effects
Blueberry has a varied effect that ranges from sleepy and relaxed to uplifting and euphoric. She is a happy but chill strain that produces a genuine sense of wellbeing and calm. She can also be sleepy and creative which can be an interesting combination. Perfect for sitting in front of a film and knitting or painting something lovely. Due to her effects, Blueberry is an excellent medicinal strain. She is ideal for those who are suffering from pain, nausea, stress, anxiety or depression. Due to her Indica dominant nature, she doesn't make the best daytime strain, unless the user has nothing else on that day. However, she is an excellent evening strain and can be the solution to anxiety-induced insomnia or general struggles with sleep.
Flowering Time and Yield
Blueberry has a delightfully short flowering time of just 8 weeks. Since it is so short growers can manage a few crops per season. She can also be grown indoors, outdoors or in a greenhouse which makes things much easier for growers. Her yields tend to be pretty impressive and she responds extremely well to loving growing. Treating this strain well is an excellent way to get the best out of her buds, and she responds well to training techniques.
Flavour
The flavour of Blueberry is one of the most famous aspects of the strain. She has an extremely powerful and distinct fruity, blueberry scent that overwhelmed the usual earthy spicey cannabis smell. The flavour is also very clearly one of blueberries, and this is one of the earliest fruity strains on the market.
Would you like to add some Blueberry Feminised Seeds to your collection?
If you'd like to add some of these powerful seeds to your collection, The Vault is giving away an amazing 10% discount off Blueberry Feminised, when you enter the code: Thanks10 in the cart!
Remember: It's illegal to germinate cannabis seeds in many countries. It is our duty to inform you of this important fact and to urge you to obey all of your local laws. The Vault only ever sells or sends out seeds for souvenir, collection or novelty purposes. All of our content is provided for educational purposes only.
The post Strain Spotlight: Blueberry Feminised first appeared on Cannabis Seeds News.