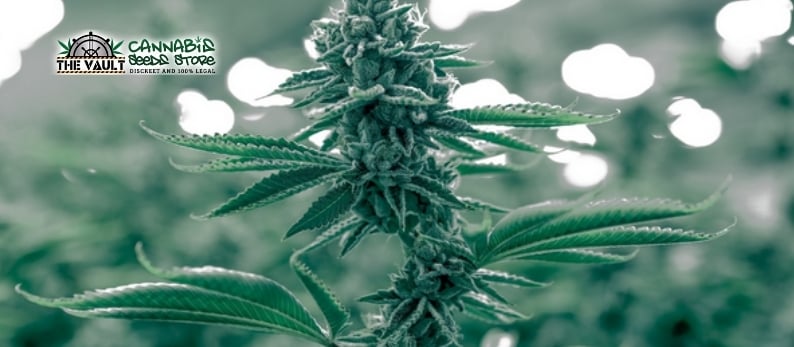 One of the primary goals when it comes to growing weed, along with yield, is producing something with high levels of THC. The higher the THC the more potent the strain and the more intense the effect. This magical chemical is found in the crystals that cover the buds and leaves of the plant. Strains that produce a lot of these crystals are also often great for resin and extract production. For these reasons, a lot of strains are bred specifically to produce high levels of THC. This is just a shortlist of some of the top-ranked high THC strains on the market.
This strain needs to sit near the top of the list. Not only does she produce massive amounts of THC but she also has impressive yields and a short flowering time. She has been referred to as a "resin producing machine" and has THC levels of up to 25%. The CBD levels have been kept low to ensure that the effect of the strain is not affected. This is not as train for the faint of heart and is probably not ideal for daytime use. The yields of this strain can hit around 600mg/2 indoors and 600 g per plant when grown outdoors. This strain can also be grown in just 7 weeks, meaning growers may be able to grow two crops in one season.
Six Shooter Autoflowering Feminised
Six Shooter is a combination of Crystal Meth and Mexican Airlines, creating a high yielding high THC strain. Though this strain is high THC and low CBD it is often used as a medicinal strain. Six Shooter is used to reduce the symptoms of epilepsy, glaucoma, anxiety, arthritis, migraines, PMS, pain, stress, multiple sclerosis, and asthma. The THC level on this strain is usually around 21% and the effect is powerful and soporific making it a perfect evening strain. It is also ideal for those who are struggling to get off to sleep due to anxiety or insomnia. This strain has a flowering time of 9 weeks and can produce a yield of up to 750 g/m2 during that period.
Sweet Gelato Autoflowering Feminised
This strain is a delicious and exciting treat that was created by combining Gelato and Killer Kush Auto. This means she has some of the best genetics in the world coursing through her buds. She is well known for her amazing scent/flavours and her high levels of THC. Usually, her THC levels will sit somewhere between 18 – 23%. The scent is a combination of earth, wood and dry, sweet fruit with a taste profile to match. The effect is extremely powerful and uplifting but still not recommended to the weak of heart. This strain produces a medium yield and will flower in around 56 days from germination.
Amnesia Haze Autoflowering Feminised
Amnesia Haze is famous for its hard-hitting effect and immense power. Though her THC level is a little lower than some others on this list at 18%, she packs a wallop. The effect is cerebral and uplifting in a way that is ideal for those who are struggling with apathy, depression and anxiety. She was designed to overcome the issues present with more traditional Haze strains, mainly the long flowering time. Original Haze can take up to 20 weeks to fully flower, where are this version takes no more than 11 – 12 weeks from seed. She is so completely coated in crystals she looks like she has been out in a snow storm. This makes her a perfect strain for extraction methods. She also has a medium CBD level of 1 – 5 % which makes her a decent therapeutic strain.
Big Yield Autoflowering Feminised 
Big Yield is pretty self-explanatory, it does what it says on the tin. However, in addition to its impressive yields, it is definitely on the higher end of the THC scale. The THC level for this strain sits at 22% with a low CBD level of 0 – 1%. Its effect is powerfully psychedelic and could easily knock off some blocks. I think it's safe to say now that none of the strains on this list are going to be suitable for beginners. Due to its diminutive stature and massive yields, this is often recommended to commercial growers or those who don't have a lot of space available to them. It has a flowering time of just 9 weeks and will grow exceedingly well both indoors and outdoors.
This impressive strain won third prize at the Cannabis Cup back in 2003 and since then it has been enormously popular. It was created by combining Thai and Jamaican genetics, both of which are well known for their power. Laughing Buddha has a THC content of around 22%. The effect, unsurprisingly, is uplifting and energetic which makes it ideal for day time use. Of course, because it's THC is so high, it is not for use on a day when anything important needs to be done. It's more for days spent running around fields with friends and enjoying music. She tastes and smells strongly of exotic fruits, the perfect accompaniment to her high. Laughing Buddha has a flowering time of 70 – 75 days and can grow indoors or in a greenhouse.
Finally, we move onto Royal Gorilla, one of the most powerful THC heavy strains on the market. Her THC levels can reach up to 27% and her high ticks all of the boxes. She gives off couch-lock, euphoria, uplifting, long-lasting, physical and cerebral. Royal Gorilla comes at smokers from all angles, definitely clear a day for her. Medicinally she is often recommended for those who are struggling with insomnia, depression, anxiety or pain. She started only being available in the US, but now she can be purchased all over the world. She is the strain for anyone wanting to test their tolerance. She can be grown indoors or outdoors and has a flowering time of 8 – 9 weeks.
Legal Disclaimer: The competition winners will have their prizes sent to them via recorded delivery.  If you win the competition but don't receive your prize, we cannot resend competition prizes, so you'll have to raise this with your local delivery service (In the UK, for example, this would be Royal Mail).
Remember: It is illegal to germinate cannabis seeds in many countries including the UK.  It is our duty to inform you of this fact and to urge you to obey all of your local laws to the letter.  The Vault only ever sells or sends out seeds for souvenir, collection or novelty purposes.
Make sure you never miss another Vault promo and sign up for our newsletter at http://goo.gl/Bt2Ba2
The post Top High THC Strains first appeared on Cannabis Seeds News.