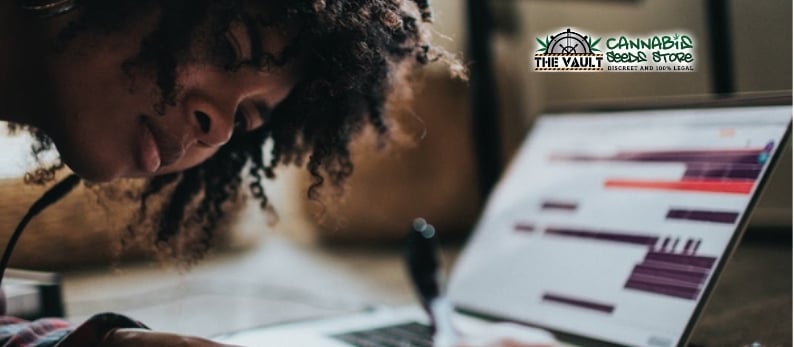 Studying and weed may seem like two things that do not go hand in hand. That is true of many strains, especially those that are high in THC or heavy Indicas. However, there are several strains that focus the mind and improve brain flow, which makes them ideal for taking in information and studying. These are just a few of the most popular study strains, but there are a good deal of these seed types on the market.
This strain is a powerful Sativa that has an extremely uplifting, happy and energetic effect. This increased energy and positivity can make studying significantly easier. This means it is also great for working on creative projects, getting some writing done or even just cleaning the house. For these reasons, Durban Poison is a favourite all over the world. She originally came from South Africa and was then bred in Holland. Durban Poison is easy to grow, making her ideal for all sorts of growers and breeders. It tastes of liquorice, cloves, spice and aniseed with a delightfully spicy smell to match. Durban Poison has a flowering time of 8 – 9 weeks and can be grown indoors, outdoors or in a greenhouse.
Lemon Haze is well known as a great focusing strain, perfect for studying. It was created by combining Lemon Thai and Chemdawg #4 and then crossing them with a California Sour. It has a fantastic genetic background that means it was born for greatness. The effect is a slow and steady release that builds, providing relaxation and energy that is ideal for getting some serious studying done. There is a lot of clarity with the effect, ensuring the brain can stay focused. The scent is strong and citric with a bright flavour to match. Lemon Haze is also an award winner and was one of the top-rated strains at the 2010 Emerald Cup. She has a flowering time of 9 – 10 weeks and can be grown indoors or outdoors.
Jack Flash was created by combining the famous Jack Herer, Super Skunk and Haze. So right off the bat, this strain is bringing impressive genetics to the table. Jack Flash has a little more Indica in it than most of these focus strains, but it still has a very uplifting and energetic high. The effect is also extremely clear-headed and will make it much easier to laser in on whatever we are working on. This strain is an extremely vigorous grower with a deliciously spicy and earthy scent. Jack Flash flowers in just 9 – 10 weeks and will grow well indoors, outdoors or in a greenhouse.
This strain is perfect for study use and medicinal use due to its energised and uplifting effect. This strain provides plenty of energy and allows the brain to remain focused while also improving mood and reducing stress. This strain was created by combining Afghani and Skunk #1, two noteable strains. Green Crack is considered to be one of the better strains for studying. Medicinally she is used to reduce the symptoms of a plethora of issues. Some of them include arthritis, glaucoma, migraines, epilepsy, asthma, multiple sclerosis, PMS, pain, stress and nausea. The THC level is around 20%, so it's not without its power. This strain is basically made of motivation so when in doubt, Green Crack is the best study aid. It has a flowering time of 8 weeks and can be grown indoors or outdoors.
Harlequin CBD
Harlequin is a great study strain because it is calming, soothing and focused. This strain is often used to reduce anxiety and to treat those who suffer from anxiety dissorders, stress or depression. This strain is far lower in THC and higher in CBD than some of the other strains on this list. That means the effects are far more therapeutic than they are physical. Harlequin is also used to reduce the symptoms of fibromyalgia, arthritis, PMS, pain, insomnia and Multiple Sclerosis. This is a fantastic strain for anyone who wants a study aid but doesn't have the highest THC tolerance. The THC level is 6.5% and the CBD level is 5% or higher. The flavour is a combination of sweet mango and a musky earthiness which helps with the relaxation. Harlequin CBD has a flowering time of 8 – 9 weeks and will grow well indoors, outdoors or in a greenhouse.
This strain is also Sativa dominant and was created by breeding Chocolate Thai with Cannalop Haze. As if those genetics weren't enough Chocolope has also won the following awards; High Times Strain of the Year in 2007, 1st in the Hydro Highlife Cup in 2008, 2nd in the Sativa High Time Cannabis Cup in 2010, 2nd Coffeeshop in the High Times Cannabis Cup in 2007, 2nd in the Hydro Highlife Cup in 2007, 3rd in the Hydro Highlife Cup in 2009, 3rd Coffeeshop in the High Times Cannabis Cup in 2008, 3rd Indoor at Bio Spannabis in 2008, 3rd in the Hollyweed Cup in 2006. That is a pretty impressive CV for a strain to have. Her effect is powerful and uplifting, and with her chocolatey flavour she's the perfect strain for a joint and a coffee before buckling down to study for the day. Her THC level is medium at 17%, which is perfect for a study strain as we don't want to get too mangled. She has a flowering time of 9 – 10 weeks and can be grown indoors, outdoors or in a greenhouse.
Tangie is a powerful strain that is creative, powerful and focused with a high level of THC. She is also often used as a medicinal strain for those suffering from asthma, pain, nausea, PMS, glaucoma, depression, epilepsy, loss of appetite, anxiety and a variety of other issues. This strain is energising and upbeat which makes it perfect for getting some work done. Her THC levels can reach up to 23% so she may be a little strong for some smokers. She has a flowering time of 9 weeks and will grow well indoors or outdoors.
Remember: It is illegal to germinate cannabis seeds in many countries including the UK. It is our duty to inform you of this fact and to urge you to obey all of your local laws to the letter. The Vault only ever sells or sends out seeds for souvenir, collection or novelty purposes.
Make sure you never miss another Vault promo and sign up for our newsletter at http://goo.gl/Bt2Ba2
The post Top Strains for Studying first appeared on Cannabis Seeds News.